Sega Dreamcast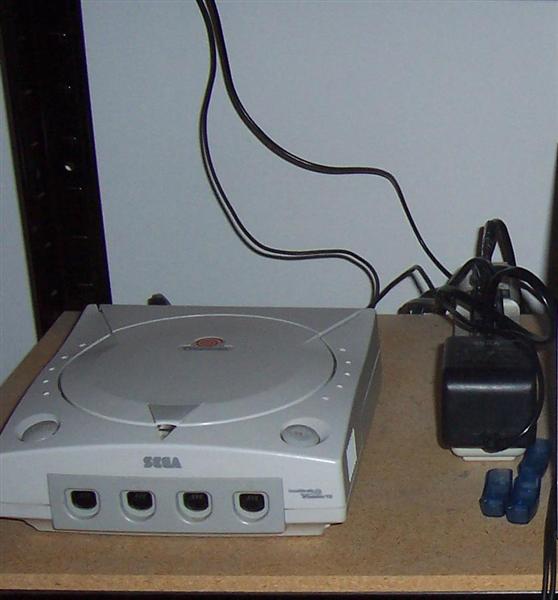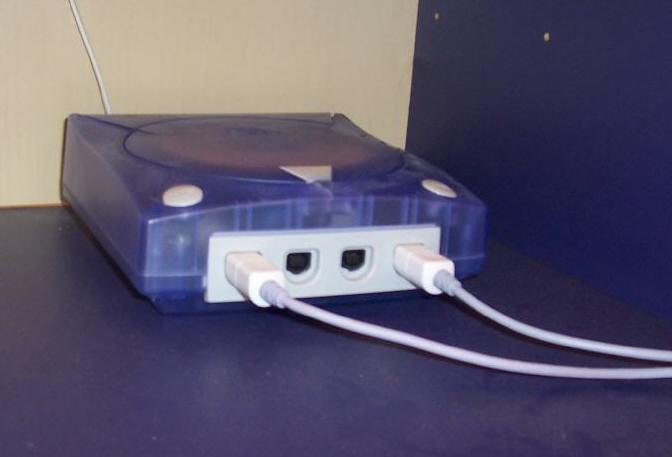 I was first exposed to the Dreamcast via a friend who was into fishing. The Dreamcast no doubt has the best fishing controller ever made, and a bunch of great fishing games available for it. He had BAss Fishing I and we would play like a 4 hour marathon session switching off until we would beat the game. I bought one on ebay about 3 years ago with controllers and a few games. I got the fishing controller seperately, i bought my Dreamcast just to relive those days. I had it in storage for a while then said fuck it and put everything i had back on ebay. some dude from italy won it and i shipped it to him. after a few months he still hadnt gotten it, i went to the post office and filed the papers for a lost shipment, etc... then suddenly like a month after that i got the thing return to sender. now it had been over 90 days and the guy coudlnt even negative feedback me. i checked the address and i definately had written it right. so i said fuck it and kept it. then it sat in storage again, still packed in its box from its return trip to italy. a few months ago i started getting back into gaming and i set it up. alas, the cdplayer was shot and woudlnt read any discs. i took a big chance and bought one for $12 with shipping on ebay, it was 'as is' and untested. it didnt even come with any cables or anything (didnt need anyways). it works great! then i scored about 12-15 games off a guy i work with in exchange for burning him some DVDs.
| | |
| --- | --- |
| | i have two pristine dreamcast controllers, each takes 2 VMUs (memory units), i have 3 total. the fishing controller also is mint and works great. |
| | |
| --- | --- |
| | sega never released the light gun in the US. eventually 3rd party companies made some tho. this is the european/asian one...even if you can get one, it wont work with any of the US light gun games, so you have to also get the PAL or NTSC-J versions....which I have! |
| | |
| --- | --- |
| | copped the keyboard to play typing of the dead, and maybe one day ill get my hands on a broadband adaptor and surf the web! |
| | |
| --- | --- |
| | The Dreamcast Mouse. Only has a couple uses....if you are using the webbrowser, its useful there along with the keyboard. One day I would like to throw down on the Broadband Adaptor and use my DSL with the dreamcast, that would be a thrill (dial-up is currently possible, but we all know that sucks, tho i have used it for a few laughs here and there). However, there is undocumented mouse support for the game Rez, and its pretty cool. Didn't pay much for this puppy anyways. |
Games: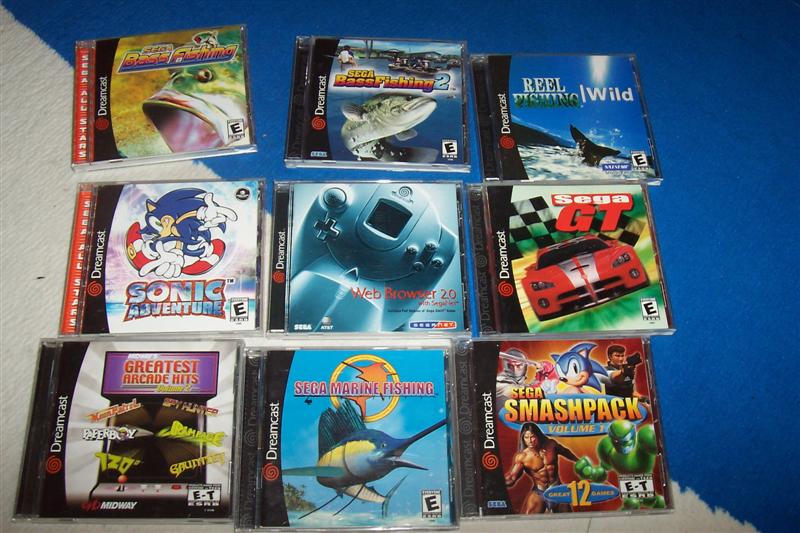 Ive got 10 in cases (just bought crazy taxi today, it isnt pictured) and the rest in a cd book, the ones I got from my co-worker. i have most of the manuals for those as well.
In Cases w/ manuals
1. Crazy Taxi
2. Sega Smash Pack Vol. 1
3. Reel Fishing Wild
4. Sega Marine Fishing
5. Web Browser 2.0
6. Midway Greatest Hits
7. Sega Bass Fishing
8. Sega Bass Fishing 2
No Case w/ manuals
9. Sega GT
10. Dynamite Cop
11. Virtua Fighter
12. Test Drive 6
13. Sonic Advenure
14. Royal Rumble
15. Star WArs Demolition
16. Expendable
17. Ready to Rumble Boxing
18. Tony Hawk Pro Skater 2
---
Dreamcast #2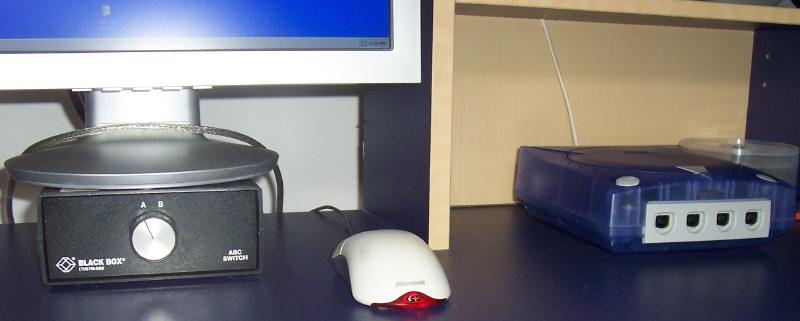 Here's a timeline of my 2 Dreamcasts:
1. Purchase Dreamcast #1 on ebay with controllers, games, etc...
2. Dreamcast #1 dies, stops reading discs
3. Dreamcast #1 is put into storage with all accessories
4. Years later, Dreamcast #1 is taken back out and intermittently works, then dies again
5. Dreamcast #2 is purchased with zero accessories for $12 on ebay and works great as 'living room' Dreamcast
6. Dreamcast #1 is relegated to paperweight status
7. Replacement laser lens, purple replacement case and new AC/RCA hookup are purchased for Dreamcast #1
8. Dreamcast #1 is fixed, along with new case and VGA adaptor and switchbox/cabling for permenant hookup to PC
9. Dreamcast #1's Switchbox fails, new 'Black Box' switchbox is purchased and the dream is a completed reality!